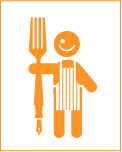 Caren Bartlett
Caren Bartlett
Branford, CT, 06405, United States
My greatest foodie experience was dining with Julia Childs and Jacque Pepin @ the Union League in New Haven.
14 October 2010 - 5:13pm
Celebrating the vibrant local food culture of Connecticut's culinary capital —with more than 50 recipes from over 30 top restaurants
New Haven is arguably the restaurant capital of Connecticut, with food lovers regularly making the trek to taste the latest and greatest the city has to offer. From the legendary pizzerias of Wooster Street to the hip Ibiza, New Haven's restaurants, some of which are nationally renowned, reflect the best of the city—international yet down to earth, sophisticated yet unpretentious.
New Haven Chef's Table is the first cookbook to gather the depth and breadth of New Haven's food offerings in one place, with the net proceeds to benefit The Connecticut Mental Health Center Foundation (cmhcfoundation.org). Profiling more than thirty-five of the city's top chefs, who each offer two favorite recipes reworked for the home cook, the book is also a celebration of the growing sustainable food movement, with a focus on food connections with local growers, farmers, and organizations.
The recipes range from Plum Frost (116 Crown), Guiness Stew (The Playwright), and Chorizo with Sweet and Sour Figs (Barcelona) to Cranberry Curry Scone (Café Romeo), Doro Wat (Ethiopian Chicken in Red Pepper Paste; Lalibela), and Capesante Grigliate (Grilled Scallops; L'Orcio). The contributors include: Barcelona, Basta Trattoria, Bespoke, Carmen Anthony Steakhouse, Caseus, Claire's Corner Copia, Consiglio's, Ibiza, Pepe's Pizza, Scoozzi, Soul de Cuba, Temple Grill, Thali, Union League Cafe, Zinc, and more. The book also features profiles of the Yale Sustainable Food Project, CitySeed Farmers' Markets, and Common Ground High School.
27 August 2010 - 3:46pm
Real Food Has Curves (Hardcover) By Bruce Weinstein & Mark Scarbrough (Author)
A new cookbook: Real Food Has Curves is a fun and ultimately rewarding seven-step journey to rediscover the basic pleasure of fresh, well-prepared natural ingredients: curvy, voluptuous, juicy, sweet, savory. And yes, scrumptious, too. In these simple steps—each with its own easy, delicious recipes—you'll learn to become a better shopper, savor your meals, and eat your way to a better you. Yes, you'll drop pounds. But you won't be counting calories. Instead, you'll learn to celebrate the abundance all around.
This was a fun time and they even brougth food, panacotta salad and wine.
22 July 2010 - 7:00pm
How lucky to meet two great chefs in one week… this morning I attended the book signing, John Barricelli, owner and Chef of The SoNo Baking Company & Café, in South Norwalk, Ct. You can see John on Martha Stewarts Everyday! John brought some treats for us to sample…the cover of his new cookbook features a raspberry tart, and we also had his pecan squares…delicious!!
16 July 2010 - 4:23pm
I attended the lecture given by noted author and Chef, Michel Nischan, Sustainably Delicious!!! A great new cookbook and cause to be noted…Wholesome wave. This core program is a "nourishing neighborhoods campaign," is a celebrated "double value coupon program," which doubles ths value of federal food stamps when used at participating farmers markets…log on to his website and get involved: www.wholesomewave.org.
Caren
p.s. Michel is also the chef @ Dressing Room, in Westport, CT. I have eaten there twice and loved it!
30 January 2010 - 6:31pm by
Andrew
Dinner with Julia and Jacque — do tell. That must have been an amazing and enlightening experience. I would like to hear about the conversation and story telling that took place at that dinning table. And the menu too please.